Ingredients
Here Is a List Of Ingredients We Use no Matter what the cost is for Quality & Health for Our Cupcake Paradise  Family
- Grains From the Earth Including
Oats from canada, and home made oat milk.
Canadian Unbleached All Purpose Flour NO ADA
Gluten Free Flour, Freshley Milled and Certified in Canada 
Extra Virgin Olive Oil from Italy, Portugal, Europe and Spain *Cold Pressed when possible 

Every Cupcake and Cake is made with 100% Extra Virgin Olive Oil 
 We Do not use Soy, soy is only found in our chocolate chips because soya Lecithin  is added from the manufacture. We are not a Soy Free Facility 
 Chocolate
- 70% Dark Chocolate 
Here is a list of Ingredients we never use due to low Quality, or not good for Health 
- We Never Use these ingredients BANNED by our Standards
**Unless contained by a Mix In while meeting strict Vegan & Gluten Free Standards and our Standard for Quality. 
Partially-Hydrogenated oils

Acesulfame-K

Advantame

Aspartame

Aspartame-acesulfame salt

Saccharin

Sucralose

benzoyl peroxide 

flour bromated with the addition of potassium bromate

Pam Non-Stick Cooking Spray or any cheap sprays

Bleached Flour

Corn Oil

traditional royal icing
rapeseed oil

Peanut Oil

Sunflower Oil

Safflower Oil

Cottonseed Oil

Grapeseed Oil

any preservatives or chemicals.

 Fat from any kind from any kind of animal fat 

Any fake butter substitutes or fillers 

fake chocolate compound.

msg
- We Never Use these ingredients 
**Unless contained by a Mix In while meeting strict Vegan & Gluten Free Standards and our Standard for Quality. 
 At this point of time Cupcake Paradise is not using eggs in any of our Product, unless a Mixin for Original Contains it. Which is rare, and may be for limited edition products seasonally. Our Bakery Does Not Have Any Eggs, Or Use Them 
Our Royal Icing is EGG FREE 
*Vegan Means 100% FREE OF ANY DAIRY. 100% FREE of any ANIMAL. Processed and made in Separate Mixers, ovens tables fridges, utensils, etc. May - Vegan will NEVER CONTAIN ANY MIX IN, ADD IN, OR ANY DAIRY OR ANIMAL PRODUCT 
*Gluten Free Means 100% Free of any Gluten. Safe for Celiac and Intolerances. Our Gluten Free can be paired with Gluten FREE & Vegan or Gluten FREE & Butter. 
*All of our Vegan Products are sourced carefully, with prudence, and GREAT SIMPLICITY to minimize variables to be dairy free
We are not Allergy Free, and not able to accommodate allergy Free , allergens. May Contain Allergens. 
VEGAN CUPCAKE Base (chocolate/Vanilla)
INGREDIENTS (and Vegan Cake's)
Unbleached Premium Canadian Flour, Oat Milk, Sugar, Extra Virgin Olive Oil, Vegan Sugar, Baking Soda, Baking Powder, Salt, Cacao or Vanilla
Unbleached Premium Canadian Flour - NO ADA
Oat Milk Water
Extra Virgin Olive Oil
Premium Vegan Sugar
Baking Soda
Baking Powder
Salt
Fairtrade Cacao or Vanilla only Natural Flavors
Base VEGAN CUPCAKE (chocolat / vanille)

INGRÉDIENTS (et gâteaux vegan)

Farine canadienne de première qualité non blanchie, 
lait d'avoine, sucre, huile d'olive extra vierge,
 sucre végétalien, 
bicarbonate de soude, poudre à pâte, sel, 
cacao ou vanille
-
VEGAN "BUTTERCREAM"
Sugar, Non Hydrogenated Canadian Canola Oil, Non Hydrogenated Margarine, Legumes Starch + Mix Ins(Oreo,Caramel,Strawberry, Chocolate, etc)
VEGAN "BUTTERCREAM"

Sucre, huile de canola canadienne non hydrogénée, margarine non hydrogénée, 
amidon de légumineuses + mélanges (Oreo, caramel, fraise, chocolat, etc.)
-
Vegan Cookies 
Unbleached Flour, Sugar, Non Hydrogenated Vegan Margarine Oat Milk Water(mix in oreo,chocolate chips, caramel, etc) Baking Soda, Baking Soda, Salt (May Contain Salt)
Biscuits végétaliens

Farine non blanchie, sucre, margarine végétalienne non hydrogénée,
 lait d'avoine, eau (mélanger avec de l'oreo, des pépites de chocolat, du caramel, etc.)
-
GLUTEN FREE CUPCAKES, CUPCAKES IN A JAR
Rice flour, Potato starch, Pea hull fibre, Tapioca starch, Xanthan gum, Extra Virgin Olive Oil, Sugar, Margarine, Oat Milk, Baking Soda, Baking Powder (may Contain Salt) + Mix In (gf chocolate chips, caramel, raspberry, etc)
CUPCAKES SANS GLUTEN, CUPCAKES EN POT

Farine de riz, fécule de pomme de terre, fibre de coque de pois, 
amidon de tapioca, gomme de xanthane, huile d'olive extra vierge, 
sucre, margarine, 
lait d'avoine, bicarbonate de soude,
 poudre à pâte (peut contenir du sel) + Mélanger (pépites de chocolat gf, caramel, framboise, etc)
-
GLUTEN FREE COOKIES
Rice flour, Potato starch, Pea hull fibre, Tapioca starch, Xanthan gum, Margarine, Sugar, Mix In(Newtella, chocolate chips, strawberry, raspberry, etc)
COOKIES SANS GLUTEN
Farine de riz, fécule de pomme de terre, fibre de coque de pois, amidon de tapioca, gomme de xanthane, margarine, sucre, mélange (Newtella, pépites de chocolat, fraise, framboise, etc.)
 Allergens:
Eggs (no eggs are at our facility, it may be in a regular butter cupcake as a mix in )
Milk (milk is optional for coffee, we have ice cream & Milkshakes, we have dairy free alternartives)
Mustard 
Peanuts (we are not a peanut free facility, we can accomadte special needs contact us )
Crustaceans and molluscs
Fish (An employee could have a sandwich or a meal that contains this, we do not force anyone to change their diet ) We are a Bakery we dont have any fish usually 
Sesame seeds 
Soy
Sulphites
Tree Nuts

 

(almonds, Brazil nuts, cashews, hazelnuts, macadamia nuts, pecans, pine nuts, pistachios and walnuts)
Wheat and triticale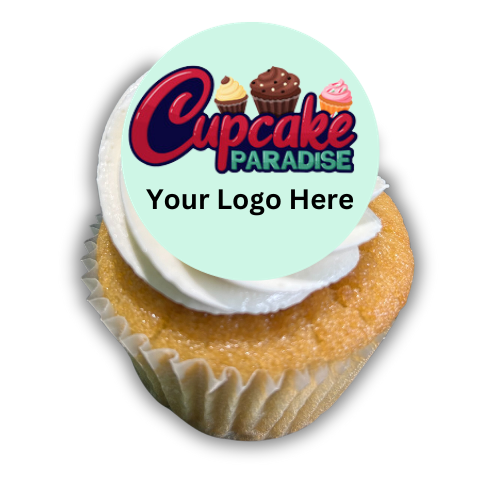 Custom Logo Cupcakes
Minimum 12 cupcakes
Available in Original, Vegan, Gluten-free vegan
Cupcakes can be
- Assorted Flavors
- Assorted Colors
- Chocolate lover / Vanilla Sprinkle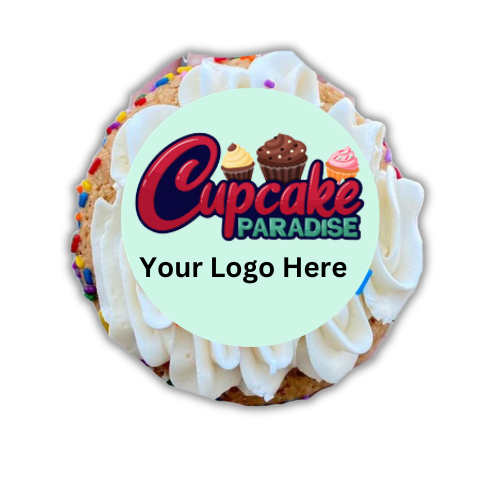 Custom Logo Cookies
Minimum 12
Available in Original, Vegan and Gluten-free vegan
- Assorted Flavors
- Assorted Colors